EAN Payments for WooCommerce
Recieve orders on your webshop with EAN-13 number as those used by Public Institutions and Muncipalites.
Public institutions now have the option to buy directly on our website. Fewer calls, more sales 😊
It comes with all the information we need.
Previously, I had to send mail to get the EAN number from my customers. I'm saving that time now.
Doing business with Public Insitutions or Municipalites?
A growing number of businesses in Denmark prefer to pay using E-invoices (E-faktura) as it makes payment and accounting easier.
If you're doing business with Public Institutions or Municipalities this plugin is a must have, at it enables the customer to place an order using the EAN-13 number of the public instituions or Municipality.
From version 4, EAN Payments for WooCommerce can retrieve production units associated with the EAN number that the customer enters during checkout.
Avoid the hassle of EAN invoicing
Often times, public institutions and municipalities prefer to pay with EAN numbers over credit cards or bank transfers. When they call and ask if you receive EAN payment, your first have to tell them "Yes, we do". Then you have to receive the order manually and write down their EAN number – and then send them an E-invoice.

Misunderstanding order
If you misunderstand or note the wrong products, there is an administrative overhead to correct it.

Wrong EAN number
If the customer gives you the wrong EAN number, you have to call back and they may have changed their mind and cancel the order.

Uncertainty
If the customer does not know exactly what they want to order, it creates confusion and possibly frustration.
Simplify the process of EAN Payments
EAN numbers are difficult to enter as they are 13 digits and this often leads to typing errors. EAN Payment for WooCommerce validates the entered EAN number against the Danish Nemhandelsregister, so the customer and you are sure that the EAN number is valid.

1.

Order

The customer selects the products from your webshop and upon payment the customer enters their EAN number

2.

Validation

If the entered EAN number is not valid, the customer will be notified during checkout

3.

EAN-data

The EAN information is automatically retrieved from Nemhandels- and CVR-registeret and displayed on the order

4.

Processing

If the entered EAN number is valid, the order is placed in your webshop and you can process the order
How the EAN payment gateway helps your webshop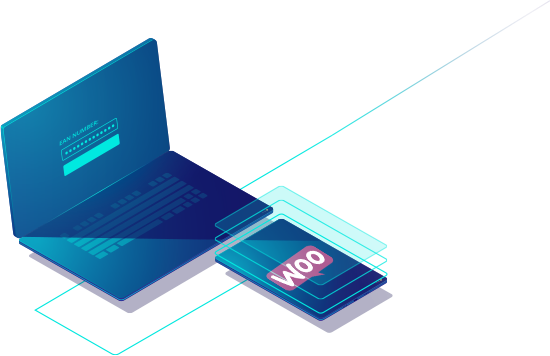 Integrated with WooCommerce
EAN Payments for WooCommerce integrates directly with WooCommerce and adds a payment method that your customers can use. All you have to do is install the plugin and then you are ready to receive EAN payments.

REFERENCE PERSON AND REQUISITION NUMBER

CONTROL THE ORDER STATUS OF EAN ORDERS
.

NEMHANDELSREGISTERET INTEGRATION
.

BOOST YOUR ONLINE STORE'S CREDIBILITY
.
EAN information is cross-referenced with data from The CVR Registry
The customers EAN number is cross-referenced with data from The CVR Registry and shows on the order, so you're able to see which company placed the order.
Possibility for automatic e-invoicing with
Storebuddy / IEX
We have collaborated with the people from StoreBuddy and IEX, so if you use StoreBuddy or IEX together with WooCommerce EAN Payments, their service will collect the EAN data and create the E-invoice for you.
You can read more about it in these blog posts (Danish)
License for 1 webshop​

Can be used for client sites

1 year of updates and support
Pro
€
171
/year


Save €74 / year
License for 5 webshop​s

Can be used for client sites

1 year of updates and support
Agency
€
294
/year


Save €196 / year
License for 5 webshop​s

Can be used for client sites

1 year of updates and support
Need help getting started?
If you want to read more details about this plugin, please read the documentation.